Giving Opportunity
CancerCon 2023 Fundraiser
About this Giving Opportunity
$535.20
Donated of $5,000.00
Help make cancer suck less by supporting Stupid Cancer's marquee event, CancerCon. CancerCon is a life-changing gathering for hundreds of adolescents and young adults (AYAs) affected by cancer. By making a donation, we can help connect and support more AYAs at CancerCon. Specifically, your donation will enable AYAs who otherwise couldn't afford to attend CancerCon the ability to join the experience and get busy living. To read more, please visit the event website @ https://stupidcancer.org/cancercon.
Each dollar you donate will be matched by Macquarie through a corporate matching program!
More about Stupid Cancer:
Every year nearly 90,000 15 – 39 year-olds are faced with a cancer diagnosis. Stupid Cancer helps to empower everyone affected by adolescent and young adult (AYA) cancer by ending isolation and building community. What makes Stupid Cancer unique is its mission to serve the overlooked population of AYAs, for whom cancer is the number one cause of death, and its focus on social and emotional support. Stupid Cancer's programs address specific issues faced by people at this stage in their lives. Stupid Cancer provides resources on everything from dating to career navigation to financial instability, while providing outlets and community-building programs to help connect AYAs and end isolation. In short, Stupid Cancer sets out to make cancer suck less. You can find out more by visiting stupidcancer.org or following them on social media (linktr.ee/stupidcancer).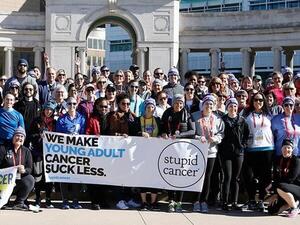 How Donations Work
Click any 'Donate Now' button and then decide your donation amount. You will then be forwarded to your payment processor of choice. Once your donation has been processed it will be sent to your charity of choice.
Need Some Help?